Heavy-duty black steel truck accessories for Ford, Dodge, Chevy, GMC, and Toyota trucks & SUVs. Made strong. Made right. Made in the USA.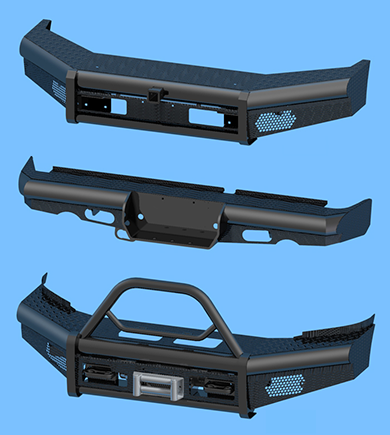 Tough As Your Truck® designs and manufactures after-market accessories for trucks and SUVs. Our truck gear is engineered and built in the USA, using state of the art equipment.
Our innovative designs and superior workmanship set us apart from the crowd. All of Tough As Your Truck's accessories are constructed from high-strength heavy gauge steel, and are designed to fit and complement each vehicle's specific lines and curves. Each part is cut and formed to exact specifications.
Tough As Your Truck specializes in sales to fleets and wholesalers. We can build front bumper replacements (in traditional, bullnose, and baja styles), rear pipe bumpers, grille guards, tool boxes, or headache racks for any model pick-up or SUV—with a minimum production run of fifty.
Call us today for a quote on your fleet needs!